N
Kodansha's Original Picture Book
Text: Nagata Hiroshi
Illustration: Yamamura Koji
Kodansha
1st edition: 2013.09.20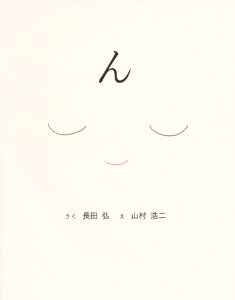 We can no longer play a minor role in "Oh no, we have to have 'n'" and "Gohan mo goha"!
The "N" is the main character in this picture book.
This is a picture book in which the possibilities of words are pursued to the utmost limit. The poet has captured the whole world of a child's feelings, including joy, anger, sorrow, and natural scenery, with a single hiragana character as the main character, creating a picture book with a richly expressive and spacious picture world. The poet uses a single hiragana character, "n," as a material for visual expression, while the artist uses it as a way of expressing the world of words, creating a new form of picture book that resonates with the thoughts of both poets and artists. This is a book that makes you realize how free and joyful the expression of words can be.
---
Message from the author, Osada Hiroshi
N" is a very mysterious word. Even if you look it up in a dictionary, it has no meaning at all. However, when you say it out loud, you will find that there is no other word that has such a wide variety of meanings in a single word.
It is a proper Japanese word, but it is not included in the Iroha ni 47 or Aiue 50 syllables, and has been regarded as an outlier or an omake. There is no other word that has such a variety of expressions.
In shiritori, you lose if you say a word that ends in "n". But in this picture book, you win if you say as many "n" as possible. So, please read in a loud voice. Please pray that you will be blessed with many "n" (luck). N-da, n-da (that's right, that's right)" (a typical dialect of my hometown, Fukushima).
---
Picture/Message from Yamamura Koji
When I read Mr. Nagata's poem, I immediately imagined that I could make a picture book with just his facial expressions! I immediately imagined that I could create a picture book with only facial expressions. My initial sketches were outlines of round faces. When I was drawing a rough sketch on the sample bundle, I came up with the idea of the book itself being a face. I thought it might be too experimental, but Ms. Nagata and the editor liked it, and the basic shape was created.
I waited for the right moment to draw it in good condition and finished it all at once. I tried to draw the "N" expression naturally, without being intentional, while at the same time being very relaxed and putting all my heart into it. I am very happy with the result, which is the simplest and most experimental picture book I have ever worked on.
---
»amazon