Event |
Jp
|
Calendar
| Past Lecture |
Past Exhibitions
|
Past Retrospective Screening
|
Past Sceening
|
---
Selected list:
2023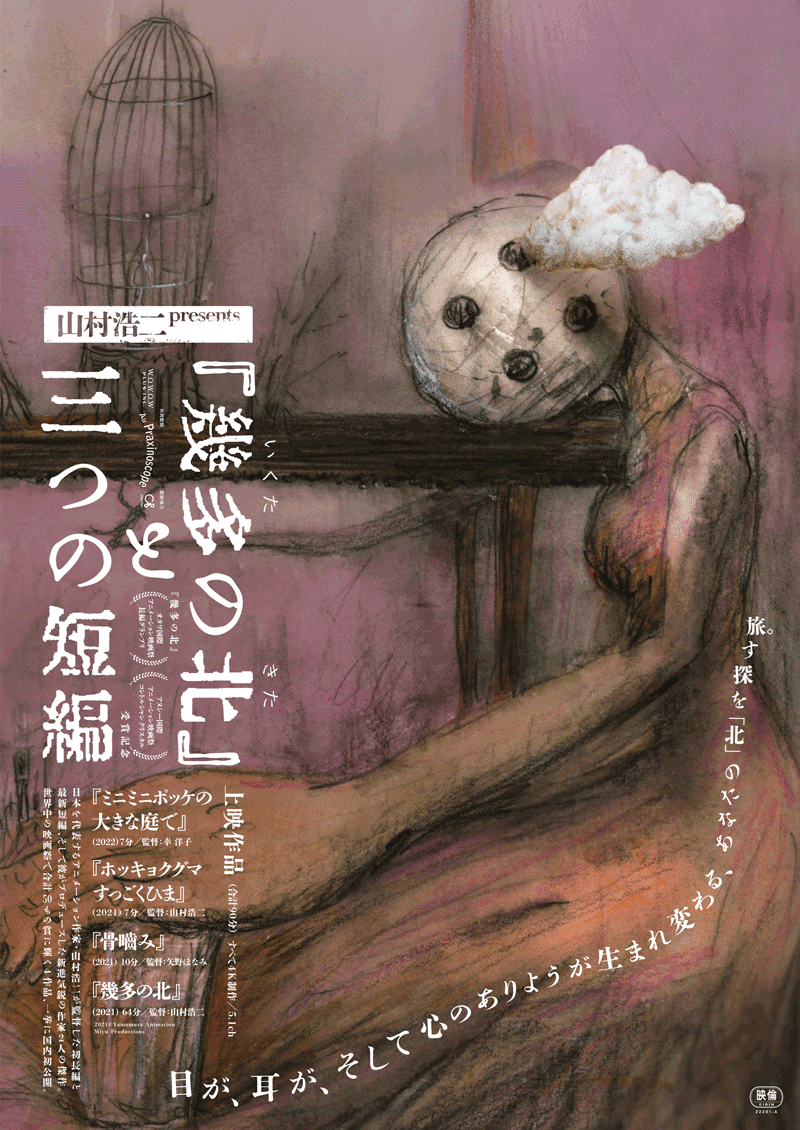 "Dozens of Norths" and 3 Shorts
at Shin-Bungei-Za in Ikebukuro, Tokyo
1/27 Fri YukinYoko x Yano Honami x Yamamura Koji
1/28 Sta Peter Barakan x Yamamura Koji
1/29 Sun Cyujo Shohei x Yamamura Koji
» Site
---
"Giving Shape to Invisible Light"
For Experimental Animation and 3D Computer Animation students at Emily Carr University of Art + Design in Vancouver, Canada, 20th January 2023
---
2022
---
Tokyo University of the Arts Graduate School of Film and New Media Open Lecture
Introduction to Contemporary Animation
37th Lecture: The Pärn School? Artists Studying in Estonia
Lecturer: Akira Arimochi, Koji Yamamura
November 12 (Sat) Doors open: 4:00 P.M. - 4:30 P.M. - 6:00 P.M.
Films: "Plug & Play" by Michael Frei, Switzerland, "Polka Dot Boy" directed by Nihei Sarina, Japan, "Deforming after Transforming" by Fukumi Nakazawa, Japan, "Regular" directed by Nata Metlukh, USA/Ukraine, "Cucumber" directed by Leonid Shmelkov, Russia
Pre-order period: Tuesday, October 18, 10:00 - Thursday, November 10, 18:00 » Site

---
Lecture and reference screening 'Animal allegories in Starevich and Chauveau's 'Fox Tales''.
29 Octber 2022, ToyFilm Museum, Kyoto, capacity 25 people, participation fee 2,000 yen (admission included) » Site

---
Director in FocusKoji YAMAMURA: 8th Taichung International Animation Festival
Taiwan, 2022.09.23-28
» Site
---
"Dozens of Norths" talk at the Japan Media Arts Festival 25th Exhibition
2022.09.16-26, Miraikan - The National Museum of Emerging Science and Innovation (Odaiba, Tokyo) and other
» Site
---
Lecture at Qingjiang University of Culture and Industry 2022.09.06
---
Symposium: Anti-harassment, The Unnamable Dance, Guest : Min Tanaka, Isshin Inudo, Koji Yamamura, Water in Animation: Fluidity and Discontinuity Screening and Lecture by Koji Yamamura, Special Talk: Min Tanaka and Koji Yamamura, Animation and Hiroshima: Tomotaka Kubo, MC: Koji Yamamura, TV Animation: The Heike Story" Guest: Naoko Yamada, Reiko Yoshida, Tomotaka Kubo, MC: Koji Yamamura
Hiroshima Animation Seson 2022
2022.08.17-21 
» Site
---
Animation Salon 2
Cast: Fujii Naoko, Shizuka Miyazaki, Koji Yamamura, Nobuaki Doi
2022.07.30, Hiroshima T-SITE SQUARE GALLERY + Online
---
2021
Online Lecture: Koji Yamamura: In The Studio Where Japan's Leading Animation is Born, 2021.10.15
Online Lecture: "Co-production with the National Film Board of Canada (NFB/ONF)" at the 2021 National Conference of the Society of Quebec Studies, Japan, 2021.10.09
Uniting the Subconscious with Reality.
Let's Talk About Animation Nature with Koji Yamamura
RCA 2021 Grad Show, 2021.07.01
Expanded Animation Special website: Online Events: MIFA Partners Conference Panel: The Changing Face of Animation Festivals, Agency for Cultural Affairs, 2021.06.14
12th AFCC 2021 FESTIVAL Title: Between Illustration and Animation: Straddling Both Art Forms, Singapore, 2021.05.29
Animation Lab - Encuentros 2021
Online lecture, Colombia, 2021.04.14
One Book Talks: Talking with Creators, Classic and Contemporary of This Country, Vol. 7, Koji Yamamura x Robert Campbell, 2021.02.06, YouTube Live
---
2020
Embassy of Japan in Italy FY2020 Overseas Establishment Cultural Program Webinar "Japan and Animation Art", Lecturer: Ms. Roberta Novieri (Associate Professor, University of Venice Cafoscari), Koji Yamamura, 2020.10.30
Hosted by FENAKI+Beijing Fashion Institute+Hou Nani Film Academy
Online animation public lecture Fenaki Meets Koji Yamamura, 4 sessions x 2 frames = 8 frames, 2020.09.12, 09.19, 09.26, 10.04
9th Experts' Meeting" The Way of Creation, Royal Abbey of Fontevraud, France, 2020.10.02, online lecture
---
2019
Master Class, Le Lieu Unique, Nantes, France, 2019.11.21
Lecture, Graduate School of Education, The University of Tokyo, Komaba, Japan, 2019.11.05
The 9th Guandu International Animation Film Festival, " Site, Taipei, Taiwan, Workshop: 2019.10.29, Lecture: 2019.11.01
TRANSFORMING THE INTANGIBLE INTO THE REAL - PRESENTATION BY: KOJI YAMAMURA "10th Anivar International Animation Film Festival, Beya, Kosovo, 2019.07.21
"Transforming the Intangible into the Real", Lighthouse International Charity Film Festival Lighthouse International Charity Film Festival " site, Beijing, China, 2019.03.30-04.05
---
2018
Master Class, Ural State Academy of Architecture and Arts, Russia
IN FOCUS: KOJI YAMAMURA: CREATING AND TEACHING " 16th Pacific Rim International Film Festival "Pacific Meridian", Vladivostok, Russia, 2018.09.21-27
Koji Yamamura Lecture on Koji Yamamura - My True Self in Selected Works " website, Taipei, Fuchu 15 New Taipei City Video History Museum, 2018.08.19
Digital Journey of Japanese Books: Koji Yamamura meets Keisai, Tachikawa, National Institute of Japanese Literature, 2018.06.16
Masterclass Koji Yamamura and French Musicians - Music and animation, 17th Lisbon International Animation Film Festival Monstra, Lisbon, Portugal, 2018.03.14
Teach-in, Escola Superior de teatro e Cinema, Largo da Academia das Belas Artes, ETIC, Portugal, 2018.03.13
Koji Yamamura Picture Book Original Drawing Exhibition: Where the Soul is Born, Koji Yamamura Talk Event, Site, Okaya, Nagano, Ilf Children's Picture Gallery, 2018.02.24
---
2017
Lecture at the High School of Arts of the Rhine (HEAR), Alsace, France, 11.29
Koji Yamamura 5-day lecture and workshop at the Centre Européen d'Etudes Japonaises d'Alsace - CEEJA, Alsace, France, 11.27-12.01
The 16th Cyprus Countryside Animation Fest, Talk: Koji Yamamura x Chris Robinson " Republic of Cyprus, Nicosia, 06.28
---
2016
5th China Independent Animation Film Forum (第五届中国独立动画电影论坛) Talk " Site, Beijing, China, 798 art center, 10.13-16
Opening Symposium of the Exhibition "From Painting to Animation" (从绘画到动画) " Suzhou Jinji Lake Art Museum (苏州金鸡湖美术馆), Suzhou, China, 2016.09.24
10th Animanimation International Animation Film Festival " Koji Yamamura Master Class, Cacak, Serbia, 09.07 - 09.11
31st International Congress of Psychology (ICP2016) Title: How to Create Movement in Animation " Site, Pacifico Yokohama Conference Center Main Hall, 2016.07.24
The 12th China International Manga and Anime Festival, International Animation Education Forum (第十二届中国国际动漫节国际动漫教育高峰论坛暨), Panel Discussion: "匠心独运-东方语境下的动画精神" Lecture: "Animation and Time ( Workshop: "Sound and Animation" Hangzhou, China, Xiangshan Campus of China Academy of Art, 04.29-04.30.
Netherlands International Animation Festival, Utrecht, 2016.03.16-20
---
2015
New Chitose Animation Film Festival 2015 Lecture "Children, Dreams, Animation: Absence of Time"
Tokyo University of the Arts + University of Technology Sydney Joint Exercise, Face to Face Workshop
FAMU (Film academy in Prague, Prague, Czech Republic, 2015.11.19
Pilsen art department university, Pilsen, Czech Republic, 2015.11.20
University in Zlin - animation department, Czech Republic, 2015.11.21
Lecture "Moving image and animation" at Tsinghua University School of Art and Design, Beijing, China, 2015.10.30
Koji Yamamura lecture: Identity, world and self-border - through making short animation, 2015.04.25-26
Tokyo Anime Award Festival 2015, Master Class "Congress of Futurology", Ari Forman & Koji Yamamura, TOHO CINEMAS Nihonbashi Screen 4, 2015.03.22
Koji Yamamura Workshop at La Poudrière, France, Balance, 2015.03.16-20
---
2014
5 days workshop at Geneva University of Art and Design (HEAD), Switzerland
International Design Workshop at Asia University, Taiwan
---
2013
Carrefour de l'Animation at Forum des images, France
---
2012
Special Lecture in Kanazawa College of Art, Japan
Japanese Independent animator, Koji Yamamura, Chung-Ang University, Korea
---
2011
Special Lecture in Estnia Art University, Estonia
Lecture for Muybridge's Strings in Korea National University of Arts, Japan
"Norshtein, between object and process" Ashikaga Museum of Art, Japan
5 days lecuture in L'abbaye de Fontevraud, France
Ottawa International Animation Festival Master class, Arts Court – Theatre, Canada
---
2010
Supervision, lecture and workshop at Exhibition" Karel Zeman" Kariya City Art Museum, Japan
---
2009
Animations Open Study vol.0 -See the animation on 16mm film, Japan
Lecture at Concordia University 3/16, Canada, Montreal
Lecture at Rhode Islan#eaSchool of Design (RISD), US
Lecture at Harvard University, US
Lecture at "Adult Animation, welcome to Koji Yamamura's world" Nagakute Cultural Center, Japan
Lecture at Kid's Movie Theater〈2009〉"Yamamura Animation Dai Zukan" 21st Century Museum of Contemporary Art, Japan
International Symposium "power of produce, Japan and Canada"  Oscar Peterson Theater, Canadian Embassy, Japan
Keynote address "anima" Animation Project 2009 -Flip. Flap, Animation- Nagoya University of Arts and Sciences, Japan
"Nemuri Hime" Talk with Kei Shichiri UPLINK X, Japan
The new standard of animation "Yomu Animation" Publishing Event lecture, Japan
Business for Tokyo university of the Arts and Adachi Ward - Film music Research and creation - "Music of Koji Yamamura", Tokyo university of the Arts, Japan
---
2008
Conférence-projection de YAMAMURA Kôji "Peintures animées et animations peintes" L'Institut Franco-Japonais de Tokyo, Japan
"Zbig Rybczynski X Koji Yamamura" Presided by Hideichi Tamegaya Joshiji university Art and Design, Japan
Lecture at 11th koto international Student Film & Video Festival, Japan
---
2007
Creators forum, Konan Women's University, Department of Creative Media Studies, Japan
Multimedia lecture meeting, Kyoto Seika University, Japan
Lecture, University of Ljubljana, Slovenia
---
2006
Lecture, Manggha Centre, Poland
Open Lecture, Hiroshima City University, Japan
---
2005
Nagoya Zokei University of Art & Design Graduation production exhibition commemoration open lecture, Aichi Arts Center, Japan
---
2004
Workshop and lecture, The Korean National University of Arts, Korea
Keio University "Digital Art Awards 2004" Keynote address, Japan
---
2002
Lecture, De Anza College, San Francisco, US
Lecture, National Yunlin University of Science & Technology, Taiwan
Lecture, National Film Board of Canada, Winnipeg, Canada
---
2001
Lecture, National Film Board of Canada, Canada
---
2000
Lecture, Tama Art University department of Graphic Design, Japan
Lecture, Azabu University, Sagamihara, Japan
Lecture, Doshisha University, Japan
Koji Yamamura animation expression base course, Summer School, ENBU art & planning Seminar, Japan
---
1998
Your Choice! Workshop National Children's Castle, Japan
---
1997
Animation Workshop, Seoul International Family Film Festival, Korea
---